Offroad vans come in various shapes and sizes, but some are so large that the idea of tackling tight tracks seems a bridge too far. That's where the Bushranger Joey comes in. Not only is this diminutive hybrid small and light enough to follow your 4WD more or less anywhere, it's feasible to even bring the kids. Intrigued? Read on.
BUSHRANGER JOEY'S OUTDOOR LIFESTYLE
Primarily, the Joey is a van for two people. But you can option in an Oz Tent (or even two), which secures to the side of the awning to create a kids' bedroom, an outdoor dining area, or whatever you like. A great idea.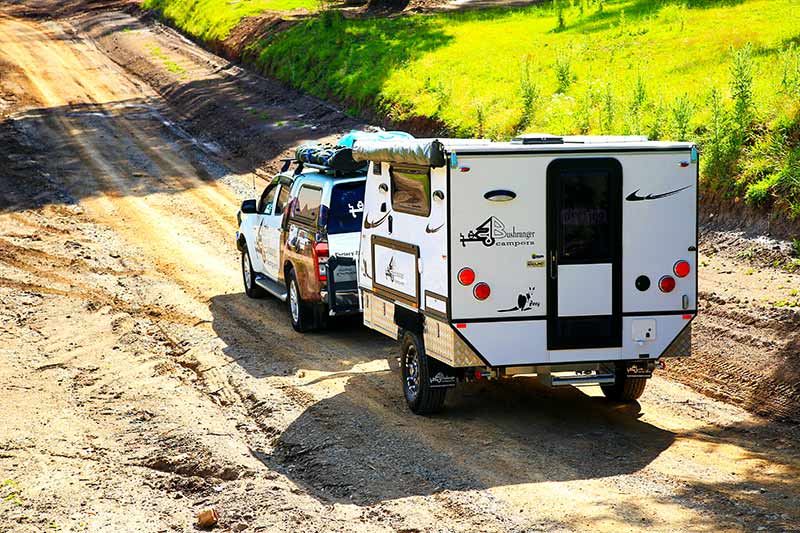 The Joey first appeared on the market around 2009, appealing to vanners who were either looking to upgrade from canvas or who, having owned a 22-plus-foot dream machine, had decided something smaller and lighter would suit them better.
Bushranger is a boutique outfit headquartered in Pakenham, Vic. Among its range are a couple of hard floor campers, the unique Great Divide hybrid, and of course the Joey.
I'd spent some time with the Joey about three years ago as part of a trip to the Flinders Ranges, and with it having just received a few updates for 2019, what better time to become reacquainted with this compact cruiser?
With its solid galvanised steel chassis, meranti timber frame and 3mm composite aluminium cladding, the Joey doesn't break new ground in terms of how it's built. However, it does offer a different – and, I have to say, very appealing – approach to caravanning.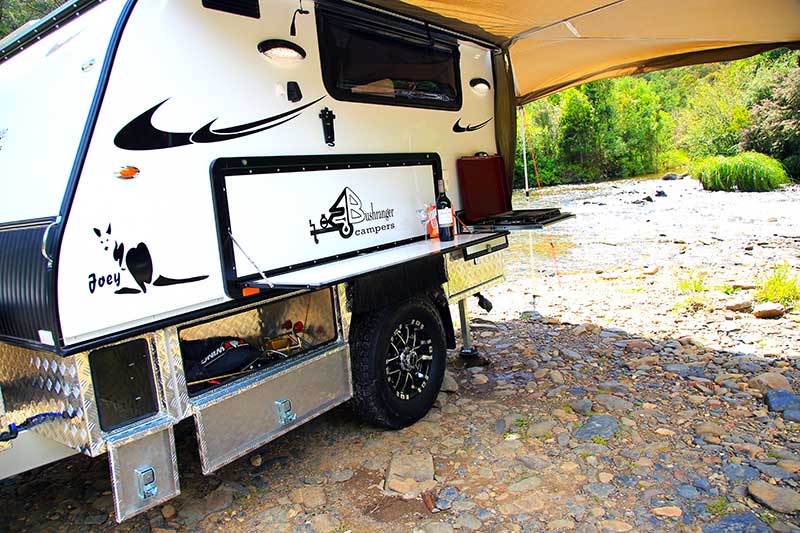 For quick stops, the Joey requires minimal setting up. Just release the two rear catches, step inside, and pop the roof up on its gas struts. For longer stays, you can also lower the two rear corner stabilisers (front stabilisers are optional) and deploy the optional Foxwing wrap-around awning. Now, setting up this awning is no more difficult than a standard roll-out awning. Just unzip the bag that's attached to the side of the camper, unfurl the awning, and fit a few poles, securing them with guy ropes and pegs.
I like this style of awning for this camper for a couple of reasons, but mainly because it provides uninterrupted coverage along the nearside of the camper and the rear – particularly important since the rear is where the door is.
Our Joey was fitted with a slide-out barbecue, one of the largest fold-down picnic tables I've ever seen, an offside external shower, a couple of storage lockers built into the lower skirting of checkerplate, and a large storage unit mounted to the A-frame.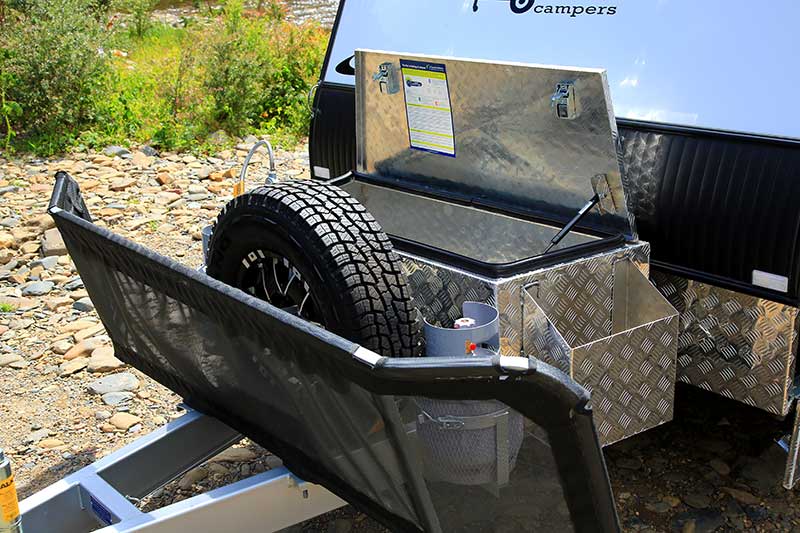 This storage unit comes with a couple of jerry can holders and I liked that the fresh water tap was mounted behind one jerry can holder, rather than to the lower drawbar rail where it would be vulnerable to stone-strike.
There's also an external 12V point, a couple of awning lights, a right-through tunnel boot and more. The Joey might be small in size but it more than holds its own in terms of comforts and liveability.
2019 UPDATES
Previously, the Joey was fitted with a trailing arm independent leaf suspension with one shock absorber per wheel. Bushranger, however, has replaced it with Al-Ko's Enduro Outback offroad, independent, trailing arm setup.
Another important change: the previous 60L compressor fridge has been upgraded to an 80L compressor unit, while the electric-only hot water service is now gas-electric.
Until now, Bushranger supplied the Joey with a 100Ah lead-acid deep-cycle battery; however, 2019 models will receive a 100Ah AGM battery instead. (Our review van was upgraded with two 120Ah AGM batteries and two 120W solar panels, showing that this rig can be specced-up for remote touring.)
Finally, an innerspring mattress, rather than a foam mattress, will now be standard fitment, too.
INSIDE THE BUSHRANGER JOEY
True, the interior of the Joey would not be for everyone. But even the most hardened RV critic would have to admire the quality of the fitout. There wasn't a bad join, unfinished edge, or out-of-square door to be seen.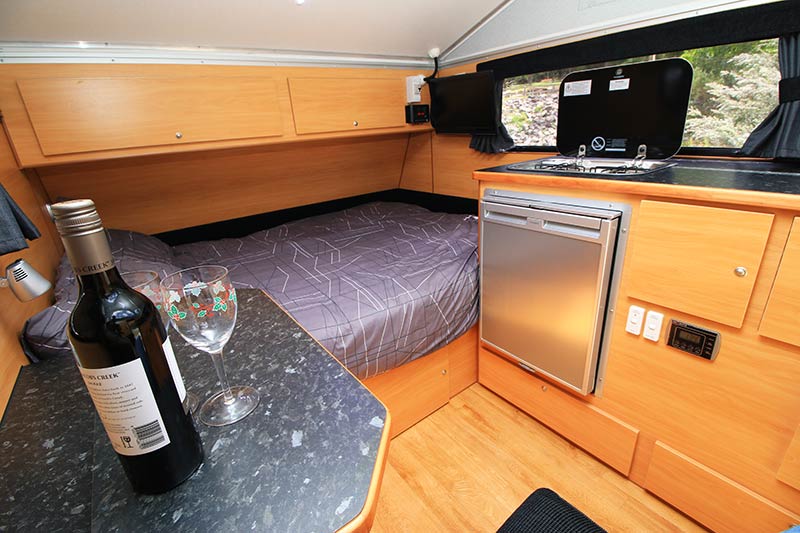 Despite the Joey's compact dimensions, I thought the interior still felt reasonably spacious. The dinette, which has a tri-fold table, will comfortably suit two people. Beneath the table is a sound system, a couple of cupboards, and a 12V point.
The offside kitchen, meanwhile, offers a suitable amount of bench space and especially storage. There is a range of cupboards and even a couple of drawers hidden behind a cupboard door. These drawers, however, weren't fitted with stoppers.
The kitchen has a two-burner cooktop, a sink, and it was even fitted with an option Sirocco 12V fan.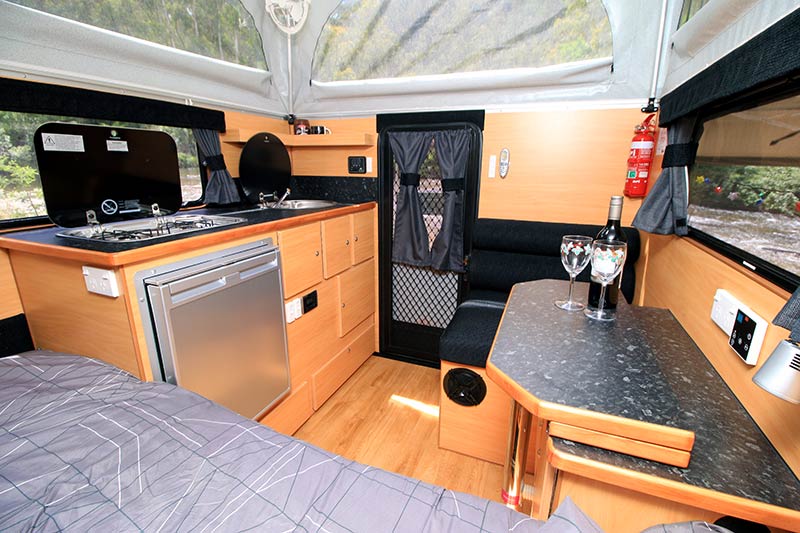 An east-west bed is fitted across the front of the van, with an optional flatscreen TV at the end on the offside. There's even a couple of lockers above the bed. For such a compact van, there's plenty of storage. And that includes under the bed. Even with the optional reverse-cycle air-conditioner fitted, not to mention the Porta Pottie provision, there's a decent amount of space left over for gear.
GORV'S VERDICT
Our review van was well and truly specced up with features such as the air-conditioner, a battery upgrade, the Foxwing awning, external shower and hot water service. To my mind, some of these options are quite essential, such as the awning. But that's the beauty of the Bushranger business – they'll fit-out the van according to your budget.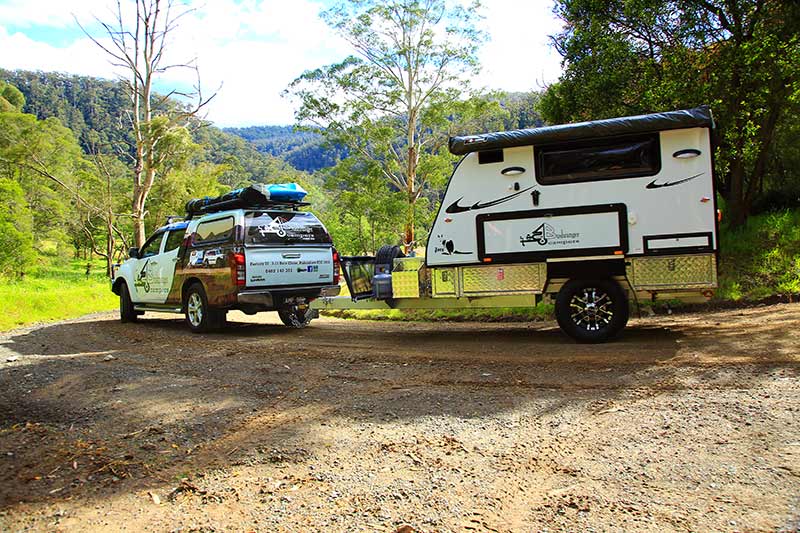 Even with all those extras added, the van weighed a reasonable 1220kg Tare, but a standard unit would come in around 1000kg. Add to that a decent payload capacity, plenty of storage space, and a size that will allow you to negotiate tight bush tracks, and you have a van with a lot to offer.
The only question: where would you take it?
THE SCORE
FIT & FINISH –

LAYOUT –

INNOVATION –

HITS & MISSES
Overall length: 5.1m (4.5m standard)
External body length: 2.9m
External width: 2.2m (including Foxwing – 2.07m without)
Internal height: 1.5m up front and 2.2m in the back
Travel height: 2.3m